Laser Epilation – Permanent Hair Removal for Women and Men
Remove Unwanted Hairs Easily, Quickly, and Painlessly!
If you have a problem with unwanted or increased hairiness, a problem with ingrown hairs or frequent inflammatory processes in the hair follicle, and you are unsure how and where to solve it in the safest way, we offer you a solution!
The LongaVita Aesthetica center has secured 2 best lasers for epilation: DIODE and IPL AFT-SHR. Together, these two lasers are applicable on all skin types, every skin and hair color, and every hair thickness.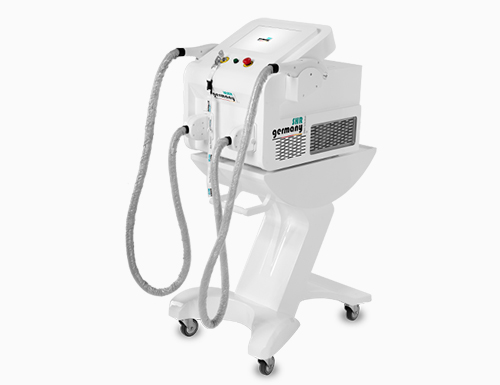 The diode laser has 2 wavelengths of 755–808 nm and gradually heats the skin until it reaches the necessary cumulative energy at the very root of the hair. It does not expose the hair root to any high energy pulse, but uses low and medium power and super fast pulses, thus gradually increasing the temperature of the subdermal (subsurface) layer of the skin by continuously moving the laser head over the treated area and gradually reaching a temperature of 45–50 degrees (℃) and therefore maintains a pleasant temperature on the skin, thus elimination any painful sensation.
The laser also does not cause any trauma to skin with a higher concentration of melanin, making this method one of the most reliable and effective laser hair removal options for people with darker skin. The advantage of this laser is that it can be used at any time of the year, because exposure to the sun is less harmful to the skin that has been treated with the diode laser.
During a treatment with a diode laser with two wavelengths, multiple pulses (up to 10 per second) raise the temperature of the dermis to 50 degrees, maintaining the high temperature for a longer period of time, thus inhibiting the surrounding biological markers (such as stem cells and enzymes) for a permanent hair reduction, while maintaining a comfortable temperature on the surface of the skin.
Diode laser treatments are performed on hairs 1–2 mm long and visits every 6 weeks for another treatment are recommended.
IPL-SHR laser treatments also work on the basis of gradual heating to a temperature that effectively damages the hair follicle and prevents regrowth without any consequences for the surrounding tissue. The IPL-SHR combines high mean power with low flux density and high frequency, gradually increasing the temperature of the hair follicle by adding laser pulses. These multiple pulses of 3–10 per second gradually raise the temperature of the dermis to the level necessary to prevent hair growth. The temperature never exceeds 50 (degrees), which allows for a painless intervention that will not damage the skin, which is most important.
It is ideal to come for treatments every 4 weeks, for hairs of a maximum length of 2 mm.
For the best results, the LongaVita Aesthetica center recommends a combination of both lasers, because together they will give the best effect both on strong and dark, and on thin and light hairs.
The Advantages of Epilation at the LongaVita Aesthetica Center
Permanent hair reduction on all parts of the face and body
Safe and effective treatment on all skin types and all hair thicknesses
Removal of unsightly lumps from ingrown hairs
Achieving silky smooth skin
A completely pleasant treatment, with pleasant cooling without strong sensations of pain
The large probe also provides great savings in treatment time
The Treatment Description and What Results You Can Expect
Epilation treatment at the LongaVita Aesthetica center is maximally safe and pleasant. Before each visit, it is necessary to treat the desired region with a razor or depilatory cream and that the hairs have grown to a maximum of 1–2 mm. The latest lasers have a large probe and automatic cooling, so the treatment itself is pleasant and will only make you feel an occasional mild stinging.
At our center, more than 90% of patients have a permanent loss of 80% of the hair in the treated region, which certainly sets us apart from the rest and serves as a sufficient recommendation to entrust yourself to our team and the best lasers on the market.

"Ingrown hairs have been my problem for many years. It is a problem that is difficult to solve and looks quite ugly. Moreover, my skin is delicate and sensitive and each additional treatment left me with a red and inflamed area that took at least a day to soothe. I decided on the LongaVita Aesthetica center because I had already visited them and seen for myself how professional and attentive they were, while their lasers were new and proven to be good. After the first treatment, which was not unpleasant at all, I saw a big improvement in the growth, so I continued to come once a month. After the 4th treatment, I completely forgot how that region used to look once, the skin was now smooth, beautiful, and free from ugly lumps! I finally don't have to worry about it anymore! Thank you very much and see you on the beach!"
Biljana Jovanović
Tourism technician
May unattractive hairs become a thing of the past and your glowing skin a reality. Come and see for yourself!
Schedule a free consultation today!