The Removal of Fatty Deposits With the Med Contour Multipower Device

Do you want a toned and shaped body that you may be proud show off? Are you someone who is thinking about undergoing liposuction but is afraid of the resuts, surgical procedure, long recovery period? A treatment with the Med Contour Multipower device offers you a solution!
A Revolution in Non-surgical Body Shaping
The Med Contour Multipower treatment acts on areas of localized fat cells in your body, or more precisely, on the cause of their appearance, by breaking the fat cells' membrane and releasing their content, which leads to an immediate reduction in your volume, and consequently shapes your body.
By using this treatment, the number of fat cells gets permanently reduced and there is no yo-yo effect if you follow our recommendations for a healthy diet and an active lifestyle.
The regions that are most often treated are
the abdomen, hips, thighs, buttocks, knees, calves, and arms, but it is also applicable to other problematic areas, upon your request.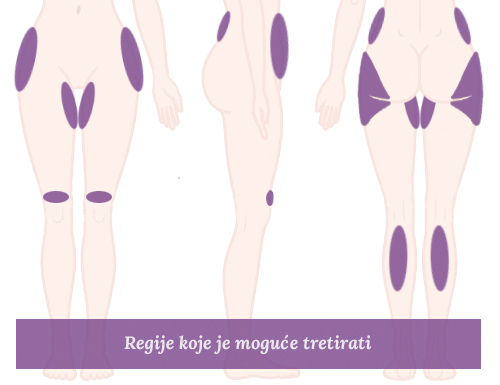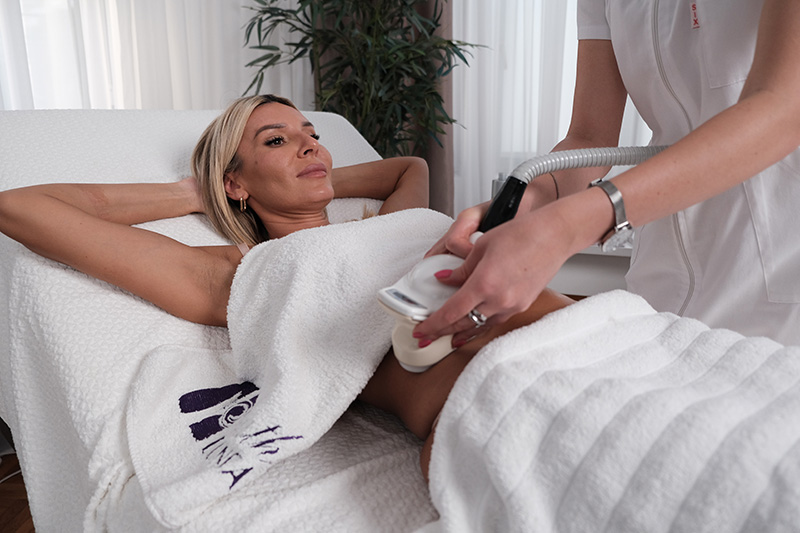 The Med Contour Multipower is a state-of-the-art device in its category that combines ultrasound and radio frequency for the purpose of effective, safe, and painless non-surgical body reshaping, cellulite removal, and skin toning.
Treatments with this device are
the most performed non-surgical fat removal treatments in America in 2013, 2014, and 2015.
It is approved by the FDA (the Food and Drug Administration – responsible for protection and public health through the regulation and oversight of, among other things, medical devices) and has been awarded three times in America as the best non-invasive device for body shaping and toning.
A Perfect Combination of Ultrasound and Radio Frequency
The Med Contour Multipower has a patented BODY SHAPE applicator with two ultrasonic probe heads that are positioned at a precisely defined angle. Each ultrasound probe emits a beam of energy making a V-shape, thus creating the best angle for maximum heating of the tissue affected by fatty deposits. During the BODY SHAPE treatment, the ultrasound applicator penetrates the fat cells in a targeted manner and breaks their membranes, making them release fatty acids and triglycerides.
After each ultrasound treatment, lymphatic drainage treatment is performed with a special applicator as part of the device. A drainage treatment is of great importance as it directs the released fat towards the lymph thus relieving the liver, which would otherwise be overburdened by breaking down so much fat.
For optimal results, treatments with the Med Contour Multipower device are performed 7–10 days apart. On average, it takes 3–5 treatments, depending on your wishes and needs. Each treatment is extremely pleasant for the client. There are no pain, bruises, wounds, scars, recovery periods, etc. but only the sensation of a pleasant warmth in the treated region. Depending on the size of the region, the treatment can last from 30 minutes up to 1 hour and 30 minutes
The obtained results are similar to those of operative liposuction and/or lipolysis and are permanent as long as the client follows the recommended instructions of our professional team. Candidates can be both women and men with realistic expectations to achieve a better shape of their bodies by removing localized fat deposits and reducing body girth.
If your desire is a drastic reduction in body weight and a complete reshaping of the body, in addition to treatment with the Med Contour Multipower device, it is also necessary to include a proper diet, which includes a food intolerance test, as well as body detoxification treatments, metabolism acceleration, and quantum medicine detoxification treatments recommended by expert doctors and the rest of our team at the LongaVita Polyclinic, whose members have many years of experience.
A possible problem with loose skin after losing weight can be corrected with different treatments, from skin toning treatments with the Med Contour Multipower device and the BODY SHAPE AND TIGHT applicator, to various mesotherapy cocktails and mesothreads that are specially designed for the toning and firming of the skin.

"During the winter, the circumference of my legs and thighs increased. I wasn't quite physically active. Then I visited the Longa Vita Center. I chose the package including the MCM device. Already after the first treatment, my clothes felt comfortable again. I am also very pleased that my thighs have taken shape, and my cellulite has visibly reduced."
Irvana Milenković
Painter
"Throughout my life, I have lost and gained weight multiple times. Now I am 50, I look good, but the skin on my arms is loose. I have undergone 3 MCM treatments for my upper arms. The skin has tightened, and the cellulite has decreased. I've also combined mesotherapy with lipolysis and I think that also contributed to the good effect. I advise ladies who have a similar problem to combine the device and lipolysis."
Jasmina Marković
Accountant
Don't waste time, be confident and satisfied with your appearance from head to toe!
Schedule a free consultation today!